Tropical Depression 9 To Strengthen Into Hurricane, Expected To Hit Florida
"Tropical Depression Nine" To Strengthen Before Making Landfall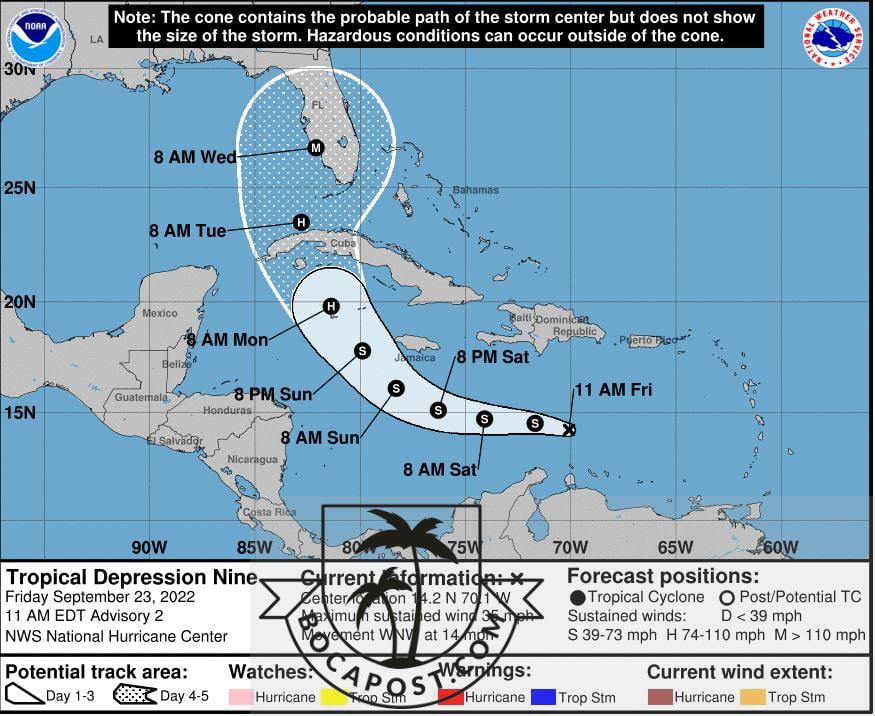 BOCA RATON, FL – Boca Post (BocaPost.com) — The National Hurricane Center tells Boca Post that tropical depression 9 is likely to become a strong hurricane as it barrels towards the west coast of Florida.
The NHC says that as the storm approaches Jamaica as a tropical depression, it is expected to strengthen into a hurricane by Monday. The storm is expected to strengthen into a major hurricane with the capability of producing hurricane-force winds, heavy rainfall, and storm surge.
Moments ago, the Florida Department of Emergency Management (FDEM) announced that "The Division is working closely with our federal, state and local partners to ensure we are prepared to provide assistance to impacted areas if Tropical Depression Nine makes landfall in Florida next week,"
If you haven't done so already, now is a good time to go over your family's emergency plan. Know if you are in an evacuation zone or if your dwelling will require that you stay at a shelter. Keep gas tanks at least half full during hurricane season to avoid finding yourself in the dreaded "gas line".