DANGER: 2 Dead And At least 41 People Seriously Ill After Smoking Synthetic Marijuana
At Least 2 Deaths. 41 People Hospitalized In Tampa After Smoking Fake Weed.
Tampa, FL – The Boca Post (BocaPost.com) (Copyright © 2021) — With an increased usage of Synthetic Marijuana a/k/a 'Fake Weed' or 'Spice' in the Tampa area, Hillsborough county is seeing the results of a bad batch of the illegal substance causing serious medical issues and death.
The Florida Poison Control Center has seen an uptick this week in patients becoming very ill including 2 deaths in the Tampa area from apparent poisoning after consuming 'spice' or 'fake weed' products.
"These individuals displayed symptoms associated with coagulopathy, a condition where the blood's ability to clot is impaired," a health advisory from the Health Department said. "While the symptoms reported have varied, most cases have had bruising, nosebleeds, bleeding gums, vomiting blood, blood in urine or stool, and heavy menstrual bleeding."
The substance itself appears to look similar to a dried up plant such as marijuana; however, it is far from it. The dried up plant is sprayed with chemicals to produce a psychoactive affect to the person when smoked. Sometimes the chemicals used are extremely dangerous. In 2018 the DEA found brodifacoum, better known as rat poison, was being used and caused a similar outbreak.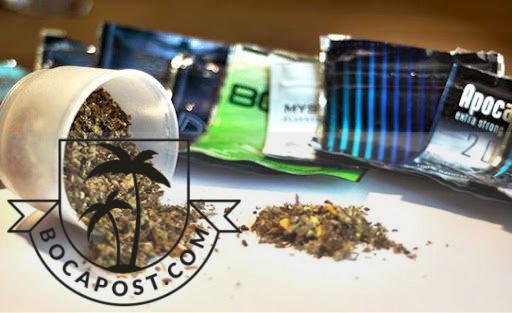 Parents, please be on the lookout for this stuff. They generally come in really goofy looking wrappers with cartoon type characters on them. Teenagers are known to be able to buy this stuff online with ease. This substance is sold on the black market and is known as fake weed, Black Mamba, Bliss, k2, Bombay Blue, Genie, Zohai, and more street names.
If you know anyone who has consumed this stuff and is experiencing any type of symptoms you are urged to get the person to the emergency room ASAP and notify the Florida Poison Control Center at 1-800-222-1222. Doctors and nurses are available 24/7 to assist.
Sources
Florida's Poison Control Centers Facebook Page, https://www.facebook.com/FloridasPCC/
Florida Poison Control Centers Twitter Page, https://twitter.com/floridapoison